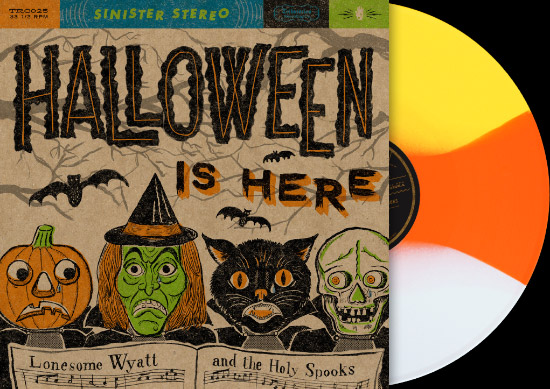 Good Evening Creeps,
You can now pre-order the horrifying new pressing of "Halloween Is Here" on limited edition candy corn colored vinyl! This rotten thing has been fancified from the previous 33rpm 10" version to 45rpm speed 12" vinyl for a more haunting audio and visual experience.
Originally released in 2013, "Halloween Is Here" is a terrifying tribute to all those strange and obscure Halloween albums from the 1950s to the 1980s. It contains twelve spooky stories and monstrous sing-a-longs for your unholy holiday party at the local insane asylum.
All orders will ship on or before the official release date of September 22.
Thanks pals!
your miserable friend,
Lonesome Wyatt